A fighter story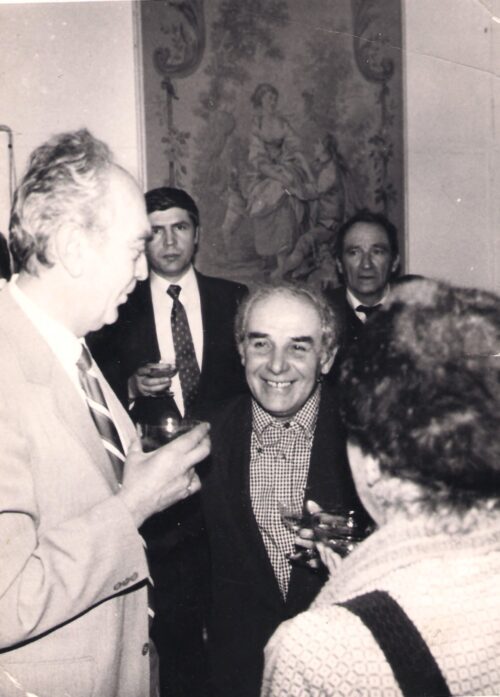 Some stories need to be told further, long time after the actions happened and the people lived. Same goes for the life story and artworks of Armenian origin and Romanian born artist Ervant Nicogosian. Strongly influenced by the insane years of the Second World War and of the long decades of the atrocious communism, Ervant Nicogosian's artwork laid on the canvas like the volumes in a library. Quiet, going straight on his artistic road, without being tempted by illusionary experiments, Nicogosian created several fundamental cycles of artworks, trying to pull out of his soul, his own emotions and experiences. His artistic cycles, either we speak about "Windows",     "The Old Princely Court", "Gulag" or " Gates" are intimately connected to the artist personal experience and mostly to his great desire to live and break barriers, to escape a certain artistic conventionalism.
Ervant Nicogosian created up to his final moments, faithful to the study of color, chromatically playing, never giving up, nor abandoning his maestro words, Camil Ressu: "Ressu was teaching you the essence of a thing, of an object, of a figure. The essence! He was teaching you the ABC. He forced you to excel at using the right color, even if he wasn't a great colorist. Those five tones he put on his palette were basic tones, everything at Ressu was essence. He urged you to paint while using your own synthesis capacity, forcing you to deepen everything" confessed Ervant Nicogosian in a 2006 interview for the cultural magazine Revista 22. 
The story of Ervant Nicogosian, started in late 20's of the last century in Odessa, continues for long seven and a half years in the terrible Russian Gulag where he spent his youth, it will be marked by a return in a Romania marked by the totalitarianism of Dej and of Ceausescu, succeeding to express himself freely starting with the early 90's, after the fall of communism. 
There is not enough knowledge of Nicogosian artwork, an art that is most of the time misunderstood, with a hermetic message but extremely powerful in terms of visual image. The artist Nicogosian, had an unbelievable life story accompanied by an astonishing artistic itinerary. His artworks deserve to be known, exhibited and collected for what brings in terms of originality to the abstract expressionism in Romania and in Europe. 
Through the passion inherited from father, respectively grandfather, the two descendants of the Nicogosian name, senior lecturer M.D.  Mrs Gilda Mologhianu (daughter) and M.D. Mrs Alina Frunză (granddaughter) are actively involved in promoting the art of Ervant to the younger generation of artists, collectors and art lovers.
Learn first about future events