2018 – Opening of the exhibition celebrating 90 years since the birth of Ervant Nicogosian – Embassy of the Republic of Armenia in Romania
2017 – Bistrița, Galeria Arcade 24
2017 – Galeria 2Art Cultural Center Mihai Eminescu – Bucharest
2016 – National Fine Art Gallery of Armenia from Yerevan – Donation
În ziua de 25 octombrie 2016, la Galeria Naţională de Artă a Armeniei din Erevan, sub auspiciile Ministerului Diasporei al Republicii Armenia, a avut loc o festivitate de donaţie a tabloului "Fereastra"a pictorului român de origine armeană Ervant Nicogosian şi a unei paftale din argint filigranat (sec. XIX) din partea jurnalistei şi traducătoarei Madeleine Karacaşian din Bucureşti.
În semn de mulţumire şi de preţuire, d-l Arman Tsaturyan, directorul de atunci al Galeriei, i-a înmânat doamnei Madeleine Karacaşian o scrisoare de mulţumire. În cuvântul său, d-l Tsaturyan a subliniat că lucrări de artă de valoare perenă trebuie păstrate în muzeul naţional din Erevan. El a spus, între altele: "Mulţumim Ministerului Diasporei pentru organizarea acestui eveniment, prin intermediul căruia a fost oferită posibilitatea ca lucrări ale unor maeştri ai artei armene să poposească în Armenia şi sunt bucuros că doamna Madeleine a restituit patriei şi această pafta, moştenită de la înaintaşii săi."
D-l S. Srapionyan, adjunct al ministrului Diasporei, a spus: "Acesta este un bun prilej pentru ca iubitorii de artă din Armenia să cunoască creaţia pictorului Ervant Nicogosian. Donaţia doamnei Madeleine trebuie să devină un exemplu pentru ceilalţi conaţionali ai noştri care trăiesc în Diaspora, pentru ca exemplare valoroase ale artei armene să fie strămutate în Patrie". Adjunctul ministrului Diasporei a dat totodată o înaltă apreciere activităţii de păstrare a armenităţii în România de către doamna Madeleine Karacaşian, care este autoarea ciclului de volume "Cu şi despre armeni", care reprezintă ele însele o colecţie de articole cu privire la problemele armeneşti.
A luat cuvântul de salut şi de mulţumire şi Madeleine Karacaşian, care a spus, între atele: "In sfârşit! Mi s-a împlinit visul şi, aflată la cel de-al 8-lea Congres pan-armean al jurnaliştilor, mi s-a oferit prilejul de a dona Galeriei Naţionale de Artă a Armeniei pictura lui Ervant Nicogosian şi o pafta de sec. XIX, moştenită de la bunica mea. Sunt încântată că iniţiativa mea s-a bucurat de aprecierea conducerii Ministerului Diasporei şi a Galeriei Naţionale de Artă a Armeniei", – a sublinat jurnalista armeană din România.
On the 25th of October 2016, at the Armenian National Fine Art Gallery from Yerevan, under the patronage of the Diaspora Minister from Armenia, a festive event was organized with the occasion of the donation made by journalist and translator Mrs Madeleine Karacașian. A painting from the cycle "Windows" of the Master Nicogosian was part of the donation. 
Mr S. Srapionyan deputy minister for Diaspora added " It is a wonderful opportunity for the art lovers from Armenia to familiarize themselves with the artworks of Ervant Nicogosian. Mrs Karacașian donation must become an example for our entire conational living abroad so that valuable examples of Armenian origin fine art should be present in the Motherland."
2016 – Artex Gallery, Râmnicu Vâlcea
2015 – Calpe Gallery, Timișoara
2015 –  "Vasile Pârvan"  Museum Bârlad
"Vasile Pârvan"  Museum Bârlad was the host of the exhibit – Light besieged – dedicated to the artistic activity of painter Ervant Nicogosian. With this occasion, artist's daughter donated an artwork signed by Nicogosian to the museum. 
2015 Sinaia – The light of the darkness
2014 – BMR Gallery, Bucharest – First posthumous exhibit
2012 – THE ARTIST AND THE POWER 
Romanian art between 1950 and 1990
Artworks signed by Ervant Nicogosian were included in the exhibit The Artist and the Power, curatoriated by Ruxandra Garofeanu that was organised between 27th of september and 2nd of december 2012, at the National Library of Romania. The event was organised under the High Patronage of the Culture Minister. 
2009 – Simeza Art Gallery, Bucharest the last personal exhibit
2009 – Group exhibit of Neconvențional journal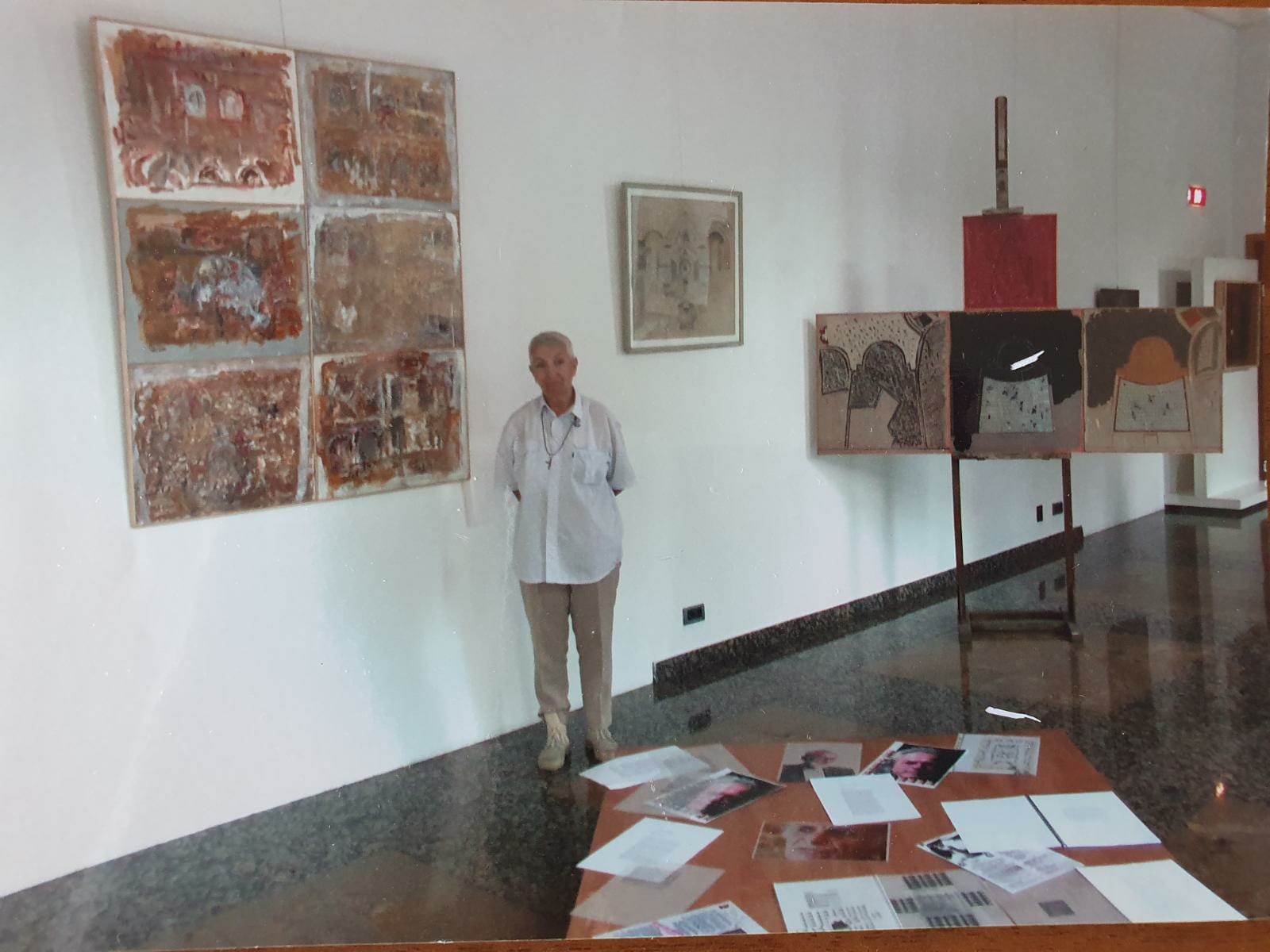 2006 Retrospective exhibit Eravnt Nicogosian – Senso Gallery
1975 – Personal exhibibit at Simeza Art Gallery
Exhibit catalogue 
Learn first about future events